"Magic Mentor Free ezine --
Become a Better Magician Now
The Real Secrets of Magic Are Not The TRICKS!"
&nbsp&nbsp&nbsp&nbspYou are about to learn the following ...
14-page ebooklet 5 Tips to Becoming a Classier Magician.


Ezine sent to you of Magic Tips guaranteed to help become a better magician.


Another follow-up Free magic ebook (in about a week)


Occasional recommendations for magic information products. (In other words, I wrote a book, and I mention projects that I have worked on with friends -- friends like Lee Asher and David Stone.


Links from time to time to more magic articles. (Always Free!)

The Best Part is ... you'll be signed up to one of the better underground magic ezines on the internet. You'll receive valuable magic articles, an occasional free ebook, and offers for practical books and ebooks. (Don't worry ... more content than sales pitch -- I promise.)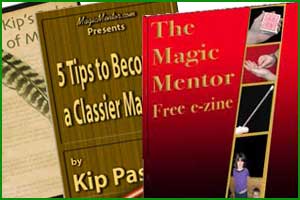 "Sign up for this free ezine,
download the free
classier magic ebook,
and then start practicing!"
"I know you want to be a smoother,
polished magician -- to be able to
entertain like the best magi. I'll help
you achieve your magic goals!"
-- Kip Pascal